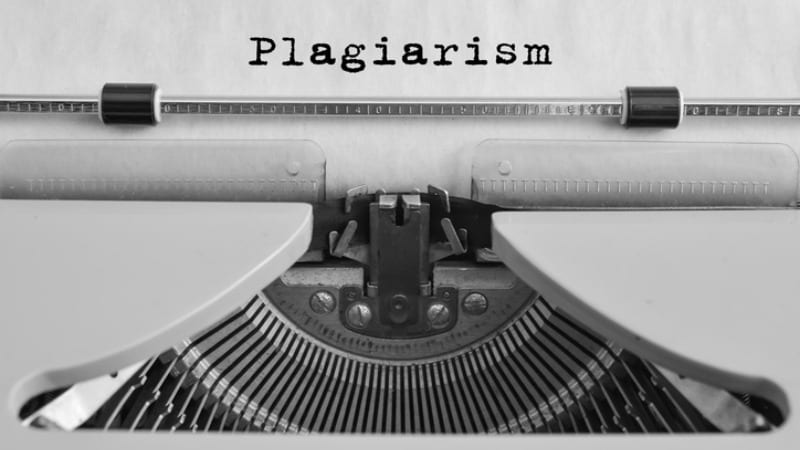 How can teachers decide which online plagiarism checkers are worthwhile? We're here to help. We read reviews, checked pricing, and compared features to find the best options for teachers.
(Just a heads up, WeAreTeachers may collect a share of sales from the links on this page. We only recommend items our team loves!)
Here are our picks for the best online plagiarism checkers for teachers:
Best Overall: Grammarly
Grammarly is well-known for its free plan that offers basic writing suggestions like spelling and grammar corrections. Every teacher and student can take advantage of this app, which works on pretty much any device you can think of. If you haven't already, it's definitely worth signing up for Grammarly's free plan here.
Grammarly's Premium plan adds a wide variety of extra features, including a robust online plagiarism checker. It scans web pages as well as ProQuest academic database to find evidence of plagiarism and immediately alerts you to the problem. It even calculates an overall originality score. If you're looking for an all-in-one tool, Grammarly's Premium plan is the way to go. Individuals can sign up starting at about $12 a month, and Grammarly offers school discount plans too.
Tip: Sign up for Grammarly's free plan first right here. Then you have the option to upgrade to Premium, and you can even take advantage of this exclusive WeAreTeachers 20% discount . Check out the Premium plan features below.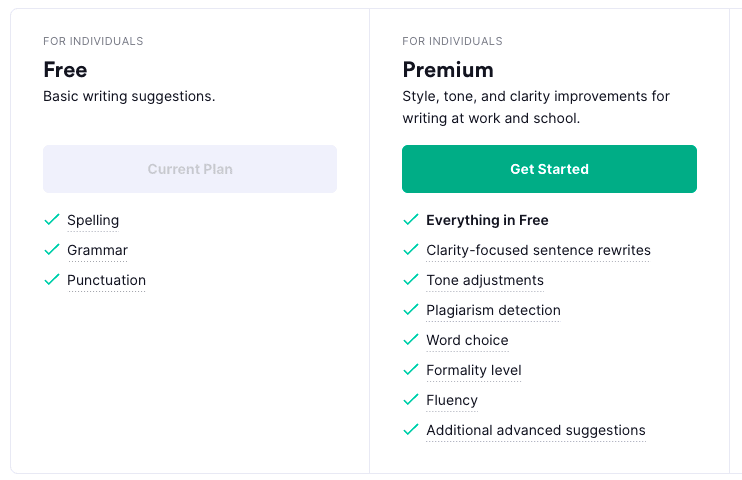 Best for Schoolwide Use: Turnitin
For schools looking to subscribe to a program that helps students write better papers while keeping plagiarism in check, we recommend Turnitin. It's a very popular choice for schools and universities, who find the service well worth the price. Teachers will benefit from the detailed online plagiarism checkers Similarity and Originality, which not only look for outright copying but can even identify text spinning and contract cheating. Turnitin also includes Gradescope, an assessment platform designed to help teachers save time on grading.
Turnitin subscriptions aren't available to individuals. If your school or district is interested in giving it a try, contact their sales department to learn more.
Best Basic Plagiarism Checker: Unicheck
When you don't need all the bells and whistles of spell-checking or grammar correction, Unicheck is the way to go. This simple anti-plagiarism tool works within multiple LMS programs, making it easy to integrate into your existing digital platform. It also stands alone, providing side-by-side comparison and real-time checking against newly-published web pages. It's even able to recognize properly cited sources to avoid false positives.
Unicheck has a quick free checker that scans up to 200 words. Individuals can subscribe by the page with substantial discounts for higher page counts ($5/20 pages vs. $50/500 pages, for example). Educators and schools can receive a 60-day free trial and bulk pricing discounts. Learn more about Unicheck's pricing here.
Best Free Checker For Teachers: Plagramme
On a budget? Consider Plagramme, which offers its full online plagiarism checker free to educators. Plagramme has both quick and detailed plagiarism checks of web and scholarly article databases, including real-time internet checks of newly-published pages. Some reviewers note that their accuracy is not always as high as some paid services, but if you don't have the money to spend on pricier options, give Plagramme a try.
Other Online Plagiarism Checkers Worth Considering
There are dozens (if not more) of plagiarism checkers available, and sorting through them all can be difficult. Here are some of the more well-known options to consider.
Scribbr partnered with Turnitin to create this checker that's priced per document. It offers volume pricing for institutions, but it's unlikely to be the most cost-effective option for most teachers.
Another frequently-recommended checker, Quetext touts its fast speed combined with DeepSearch™ technology, along with color-coded feedback that makes it easier to see and understand potential problems. Quetext has a free plan that allows you to check 2500 words a month. Their Pro plan is $9.99 per month for 100,000 words (about 200 pages) and also includes a citation assistant and downloadable originality reports.
This checker offers a variety of pricing options, from a single paper check for $1 to monthly and yearly plans. Their basic monthly plan ($10) includes limited plagiarism checks (the website doesn't specify the amount), while their Premium $15/month plan is unlimited. Both include access to online writing assistant tools, including a citation assistant and templates.
Feeling like one student copied another student's work or just made a few changes to escape detection? Try the free Compare tool at Copyscape. It allows you to paste text from two documents and compare them to see just how alike they are. They also offer a Premium service priced per word.
For hand-written or printed papers, this is a good choice. CopyLeak's OCR technology allows you to scan a paper with your phone or scanner, then upload it to be checked for plagiarism. They offer a mobile app to make things easier too. Try it for free with 20 pages a year, or pay by the page starting at 100 pages a month for $10.99.
Paper Rater's free basic plan includes 5 pages at a time and 10 plagiarism checks per month. For $14.95 monthly (or pay yearly to cut the price almost in half), Premium plan users can submit 20 pages at a time and receive 25 plagiarism checks per month.
Do you have a reliable resource for combatting plagiarism? Share your favorite online plagiarism checkers in our WeAreTeachers HELPLINE Facebook group.